Looking to host an outdoor event in style? Look no further than canopy rentals near Johor Bahru! Canopy rentals near Johor Bahru provide a unique and fun way to celebrate any occasion, and with so many options available, you're sure to find the perfect one for your next event. From extravagant wedding canopies to spacious event tents, we have everything you need to make your party unforgettable. Before booking yours, be sure to consider your event's specific needs.
Arabian Canopy is perfect for Outdoor Events
Canopy rentals are a great option for outdoor events. They provide shade and cover from the elements, making them perfect for weddings, birthday parties, and other celebrations. Canopies can be set up in a variety of locations, including parks, roadside, and many others. They come in a variety of sizes, so you can find one that fits your needs. It also can be decorated to match the event theme. Canopies can also be used to create a focal point for the event.
Different types of canopies that are available for rent.
There are mainly two types of canopy rental that we are offering; Arabian Canopy and Transparent Canopy.
The Arabian Canopy can protect you from the sunlight and keep you dry during rain. It can be used as a roof for a building or as a cover for an outdoor space. The canopy can also be used to create a private area for relaxing or dining.
On the other hand, Transparent Canopy is just what you need to create a special atmosphere and get that perfect photo background. With our fairy lights, chandelier and choice of colours, it will make your event look festive.
Which size should I pick?
For the Arabian Canopy, we offer a variety of sizes:
20ft x 20ft
10ft x 20ft
18ft x 18ft
15ft x 18ft
12ft x 18ft
10ft x 10ft
For Transparent Canopy, we offer two sizes:
20ft x 20ft
10ft x 20ft
Choose the colour that matches your event theme
Canopy scallop and pole liner is one of the most important aspect of a canopy. It helps make your events match with your event theme, colors and decoration. We have all sorts of colors to choose from. (Check the picture below)
You can choose up to two colors (Double Scallop & Pole Liner). Additionally, you can add on underlay, inner-layer and chandelier to make your canopy look more grand and classy.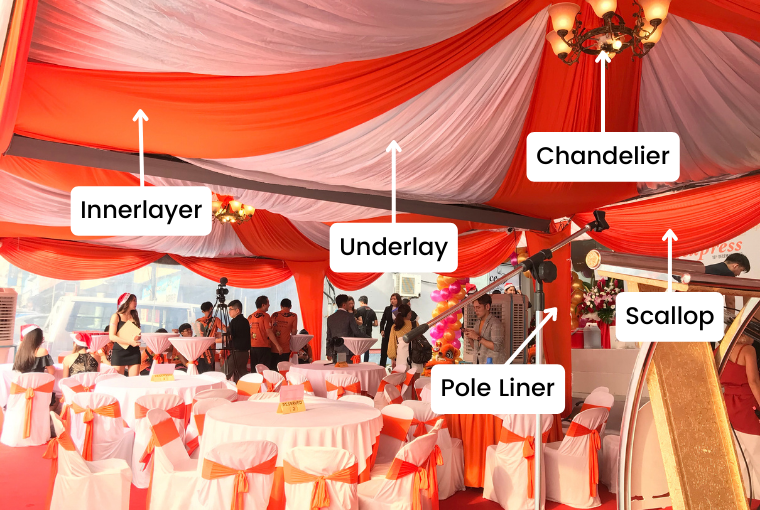 If you're not sure which size to choose from, William Exhibition offers a free consultation and site visit too!
Feel free to contact our event specialist for more information.
We provide the best service to our clients by listening to them and understanding their needs, then acting as their trusted partner in a relationship of confidentiality and respect. If you ever face any issues, we are just a call away.
We now offer a full spectrum of event services, including:
Event Coordination
Design and 3D modelling

Contact us now for more information.